About our Artistic Director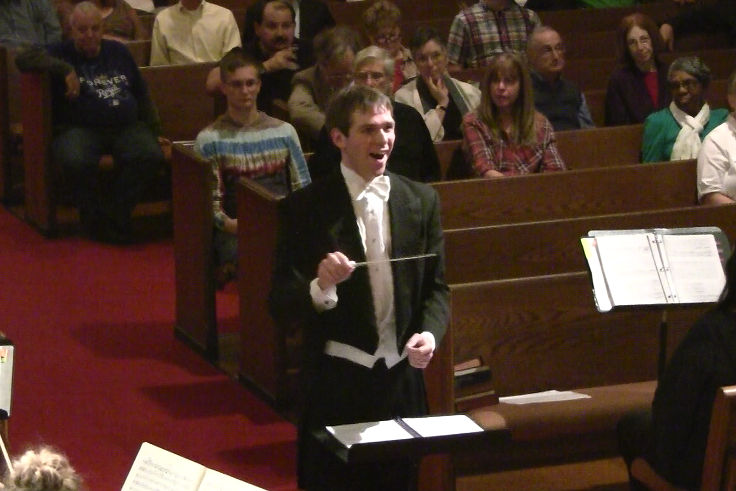 The Musical Rhetoric Workshop is directed by Bram Wayman. A conductor and composer, Bram is also active as a keyboardist, vocalist, and musicologist. His fields of expertise are musical rhetoric, Baroque performance practice, and post-classical music, the effort to shatter privilege barriers between classical music and its audiences by adopting anti-formal social norms. (If this excites you, see Bram's 2013–2015 project, Consort.)
Bram is currently a doctoral candidate at The Ohio State University. Before returning to school, Bram served as the director of music at the Watkinson School, the oldest independent grade school in Hartford, Connecticut. At Watkinson, Bram re-shaped the music program to focus heavily on musicianship and interpretation, teaching many of the same concepts explored in the Musical Rhetoric Workshop — living proof that rhetoric need not be confined to graduate seminars or the library shelves. Bram has also served as professional apprentice to Kent Tritle in New York City, where he assisted diverse ensembles, including the professional and amateur choruses at the Cathedral Church of St. John the Divine, the Oratorio Society of New York, and orchestral players from across the city; and as the apprentice conductor at the Finger Lakes Opera Company. He holds his Master's degree in conducting from the University of Missouri – Kansas City, where he studied with Dr. Robert Bode; he also holds a Master's in composition from the University of Texas at Austin, and his undergraduate degree, intensive and with honors, from Yale University.
Aside from conducting, Bram maintains interests in sustainable urban planning, railroads, intersectional feminism, and heirloom apples. He is a member of the Appalachian Mountain Club, the Green Mountain Club, and the Adirondack Club, and is slowly working on climbing all of the 4,000-ft.+ peaks of the White Mountains.
For more details about Bram's work, please visit his website, www.bramwayman.com.