Welcome to the Musical Rhetoric Workshop
The spring 2020 Musical Rhetoric Workshop is postponed indefinitely as part of public safety measures against the Coronavirus outbreak. Please contact us with any questions! We look forward to returning as soon as possible.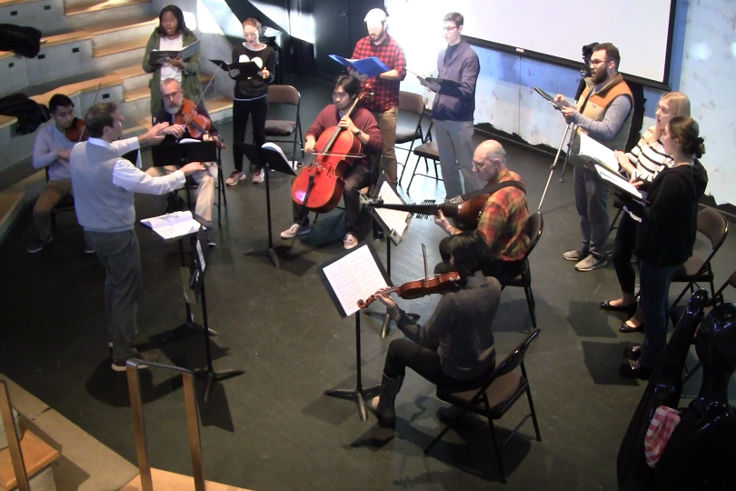 Musical rhetoric is a performance practice that grounds musical storytelling in speech, drawing on our natural expression of language and on techniques of oratory to capture and convey the emotion of musical moments. In a highly detailed approach to interpretation, musical rhetoricians attempt to identify the gestures, or specific sound-bytes, that make up their musical line, discern the emotive potential of each, and deliver them to the audience with performance techniques appropriate to each gesture's dramatic character, or affect. This method of interpretation is applicable to instrumentalists and vocalists alike, and demands a keen ear for musical structure, an interest in story and plot, and a willingness to take artistic risks.
The workshop holds two sessions per year, once in the autumn, once in the spring. Students of the workshop are generally collegiate or graduate students or young professionals, but supremely skilled high school students and performers with decades of experience have also been among our participants. The repertoire is mostly drawn from the high Baroque, the period in Western history when musical-rhetorical techniques were in full flower. The lines witten by composer-perfomers such as Purcell, Handel, and Charpentier are by design a practical playground for mastering rhetorical technique.
The Musical Rhetoric workshop is a paid gig. Students receive a small stipend, typically between $30 and $50 per call (depending on scheduling), to take part. Instrumentalists and vocalists are equally welcome, and the repertoire typically highlights all performers equally.
What happens at the workshop?
Each workshop holds a few sessions over the course of a week. Sessions are typically two hours each, and are a cross between practicum and rehearsal. Vocalists and instrumentalists begin by working separately. When all musicians assemble together, we begin our study of rhetorical techniques, learning them one by one, trying them out on different musical lines, and folding those lines into rehearsal. The objective is to learn to perform the week's repertoire rhetorically. The workshop concludes with a performance, which is open to the public.
The workshop sessions explore a variety of approaches to musical rhetoric. Students identify individual sonic gestures and improvise their own, explore techniques such as bow pressure and vowel choice to perform them, read Baroque and modern authorities on the use and origins of rhetoric, analyze music to discover its dramatic and structural underpinnings, and offer feedback on each other's work. Readings and a bibliography are provided for students to want to research further.
Frequently asked questions
What does the workshop cost?
It doesn't. You get paid to take part, typically $30 to $50 per call (varies by season).
Do I have to apply to the workshop?
Yes. See the application page for details.
When does the workshop meet?
Twice a year, typically in the fall and spring. See our full schedule here.
Where does the workshop take place?
The workshop is hosted at Watkinson School, in Hartford, Connecticut.
Does the workshop accept composers?
Though musical rhetoric is closely tied to composition (read more here), the workshop is designed around performers' participation. Composers may audit, attending all sessions without remuneration.
Will the workshop be recorded?
Yes. Recordings of your work will be available for your professional use.
Do I need to bring anything in particular to rehearsal?
Your instrument, a pencil and notebook, and a water bottle.
I still have questions. How can I learn more?
Contact our director here.